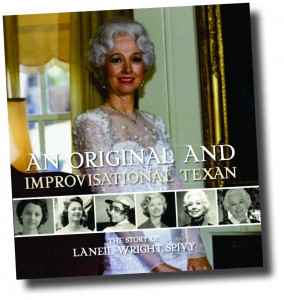 Fifth-generation Texan LaNeil Wright Spivy says she got it from her grandmother: An unwavering dedication to do what's right, even if it means asking forgiveness instead of permission, or ruffling a few feathers along the way.
"My paternal grandmother, who we affectionately called 'Big Mama,' had a greater influence on me than anyone else, even my mother," Wright Spivy says. "I admired her greatly because she had absolutely no fear of…well, anything!
"I'll never forget watching her calmly come face to face with a snake that was trying to take her eggs in the chicken coop. In one fell swoop, Big Mama reached over, grabbed its tail, and popped his head right off. Done!"
Now although Wright-Spivy admits to never having hand-to-hand combat with any would-be egg stealers herself, she did learn from the lesson: "That's how she lived her life — ready to confront any challenge head on. I always tried to model myself after her."
That tougher than grit attitude came in handy later in life when Wright-Spivy was drawn into the world of politics.
"There was a time when I honestly didn't know any candidates' names or what they stood for," she admits. But that soon changed. Wright Spivy's political awakening led to rock-solid rapport with local and national politicians alike, as she became instrumental in the passage of many Texas laws.
"I've managed to surprise a lot of folks over the years," she says, "including myself." But her work didn't come without a cost. "I took a page from the book of Big Mama — I stuck my neck out when I thought it was what God wanted me to do. It wasn't always easy, but I knew it was always worth it."
Now 87, Wright Spivy is quick to point out that she still has plenty in the tank. She continues to stay active politically and spends time with her 10-year-old granddaughter.
"I know it sounds cliché, but things truly do come into focus over time. Although I will always cherish my time as an activist, and I think of my two husbands, who have now long since passed, daily…I am drawn to the next generation. When I am gone, I want my granddaughter to not only know and remember me, but to understand her family's roots and the meaning of hard work."
Her granddaughter may not be old enough to understand the full importance of saving family stories now, but Wright Spivy knows she will some day: "Somebody said to me once, 'You're really not gone as long as one person remembers you,'" she says. "Now that I've completed telling my life story, I know that person for me will be my granddaughter."
These stories and more can be found in LaNeil Wright Spivy's memoirs entitled, "An Original an Improvisational Texan," published by Epic Bound, LLC.